Players of the UC Christchurch Youth Orchestra - 2019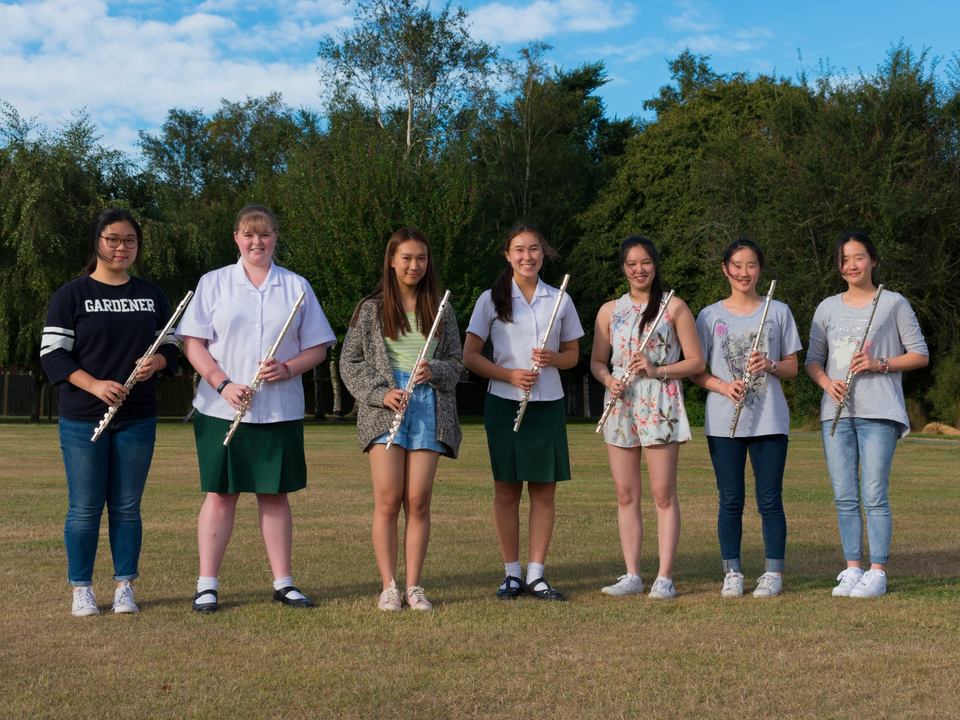 Flute section.
Hi there, we are the flute section! We are composed of seven players ranging in age from 15 to 21. Four of our members are currently attending Burnside High School, while two of our members are attending the University of Canterbury, and one who has already graduated university with a Bachelor of Music. We share a variety of hobbies, such as eating food, playing sports and getting creative with art. Majority of our members play more than one instrument, such as the saxophone, piccolo, and even the ocarina. We're a shy bunch, but once you get to know us, we show a completely new side of us. We are the flute section of the CYO.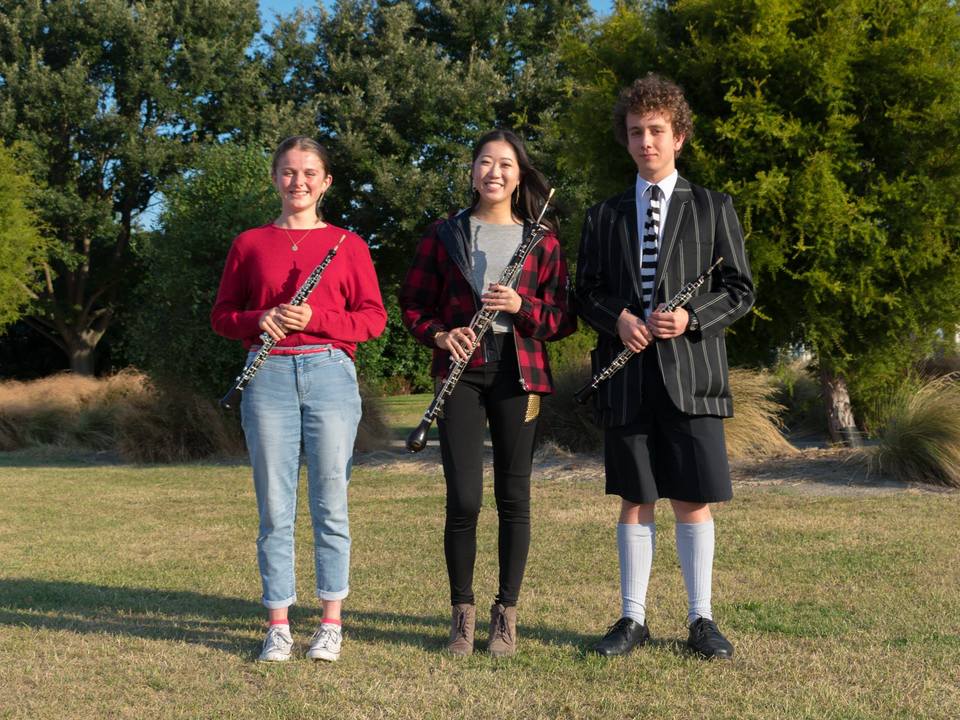 Oboe section.
Heyo! We're the oboe section of CYO, also known as the duck pipes. Our section consists of 3 players between the ages of 15 - 19, and we attend Rangi Ruru, Christ's College, and the University of Canterbury. Together, our hobbies range from baking to obsessing over cats to clay bird shooting, and some of us also play the piano. We like to have fun during orchestra (within reason of course), and like to attempt to play a tune solely on our reeds. We may or may not also be salty that the concertmaster steals the spotlight when we tune, but we're nice, we promise.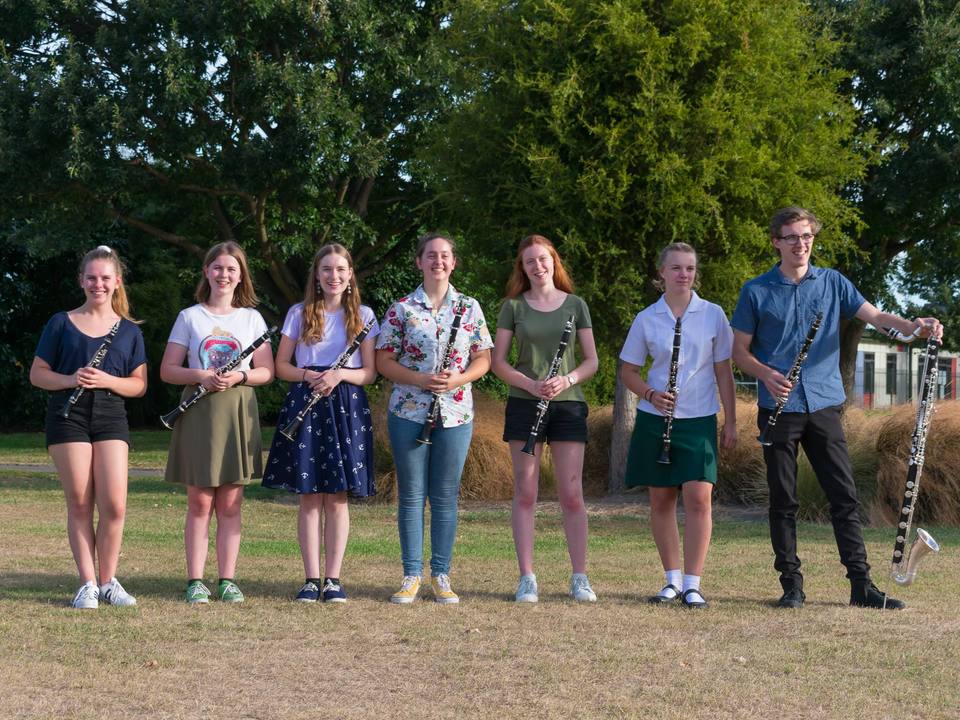 Clarinets section.
Hiya, we are the CYO Clarinets for 2019. Our section is made up of 7 people aged between 15 and 19 who have all been compared to Squidward at one time or another. Our members (Dean, Elisa, Emma, Heidi, Hilary, Lily and Polina) like to spend their time complaining about reeds, watching (or in many cases not watching) the conductor and going on long walks on the beach.
Violin 1

Violin 2

Viola

Cello

Double Bass

Rakuto Kurano
Emily Davey
Marijke Cooper
Nina Hardie
Matthew Harris
Hijiri Yamamoto
Mekaela Fleener
Reagan Lithgow
Olivia Shakespeare
Liam Johnson
Sujean In
Renata van der Wal
Bianca Amataiti
Amy McMurdo
Fion Law
Henry Nicholson
Nicholas Zhao
Rebecca Harris
Jay Kang
Nathan Smithies
Josie Williamson
Cynthia Guo
Annabelle Ritchie
Michaela Wheble
Flora Dean
Clemency van Rij
Gavin Fleener
Joseph McNeil
Grace Jeong
Natalie Amersfoort
Angie Park
Mimi Cresswell
Viki Jeong
Hannah Hawkins
Lakisha Cox
Lisha Guan
Grace Langford
Livvy Pride
Andrew Brunt
Heather Paget
Jaeshin Heo
Cameron Davies
Cameron Batchelor
Zita Kannagara
Luke Wyn-Harris
Raphael Rim
Ebony Kinney





Flute

Oboe

Clarinet

Saxaphone

Bassoon

Alena Le-Ngoc
Amy Chen
Heidi Cooper
Claudia Crosland
Gabriel Baird
Emica Taylor
Amy Clough
Hilary Bloomer-Law


Monica Hoetjes
Rochelle Kim


Polina Shevchuk
Henry Smythe
Michelle Kim

















French Horn

Trumpet

Trombone

Tuba

Percussion

Jonas Ting
Nina Noble
Connor Matthews
Matthew Bennett
Reuben Painter
James Drury
Toby Buckner
Emily McCulloch
Lewis Cooper
Josh Langford
Lewis Grey
James McKay
Caleb Morrow
Sophie Reddecliffe
Eva Bedggood
Annika Dillon
Slyvie Yee




Sho Woodhouse


Andrew Welsh



Harp

Ning Chiang
Flute

Oboe

Clarinet

Saxophone

Bassoon

Alena Le-Ngoc
Amy Chen
Heidi Cooper
Claudia Crosland
Gaberial Baird
Emica Taylor
Amy Clough
Hilary Bloomer-Law
Alannah Saunders
Monica Hoetjes
Rochelle Kim
Connor Graham
Polina Shevchuk
Alena Le-Ngoc
Henry Smythe
Michelle Kim


Dean Holdaway
Caitlin Bergercoet
Sarah Kim
Lily Doak
Ashleigh Min
Elisa Bird
Ashley Freeborn



French Horn

Trumpet

Trombone

Euphonium

Tuba

Jonas Ting
Nina Noble
Connor Matthews
Matthew Harris
Matthew Bennett
James Drury
Toby Buckner
Emily McCulloch


Josh Langfor
Lewis Grey
Annika Dillon
Sophie Reddcliffe
Eva Bedggood
James McKay


Rebecca Harris



Percussion




Reuben Painter
Lewis Cooper


Caleb Morrow
Slyvie Yee
Sho Woodhouse
Andrew Welsh