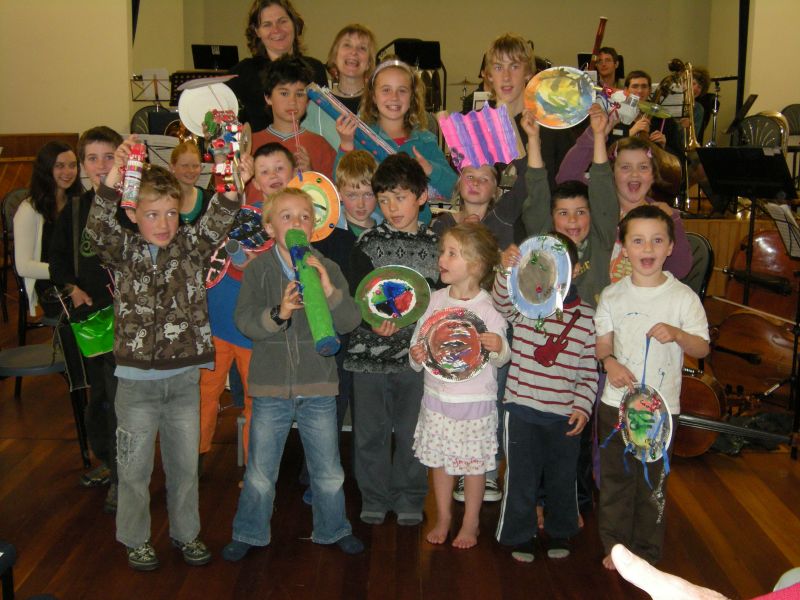 WAIMATE will be treated to a musical treasure by the Christchurch Youth Orchestra on Saturday.
The orchestra is visiting the town as part of its Southern Tour which started at the beginning of this week. It has already performed in Oamaru, Invercargill and Stewart Island.
The grouping is the Christchurch School of Music's premier orchestra and is widely regarded as one of the top youth orchestras in New Zealand. Australian Brian Buggy is theorchestra's principal conductor and is assisted by 21-year-old Kiwi Gemma New.
The orchestra performs regularly around Canterbury and toured Australia last year. Clarinet player Mark Walton, the musical director of the Christchurch School of Music, is the soloist for the concerts.
The orchestra will perform at St Patricks Basilica at 1pm.
STEWART ISLAND NEWS
CELEBRATING RAKIURA - Read Full Article with Pics
CHRISTCHURCH YOUTH ORCHESTRA
With soloist Mark Walton
Principal Conductor – Brian Buggy OAM Assistant Conductor – Gemma New
Wednesday 10th Dec 7.30 PM
Performing at Stewart Island Community Centre Entry by gold coin donation
One glassy eyed young lad told his mother that he didn't
know music could make you feel like that inside!
Christchurch Youth Orchestra
by Margaret Hopkins
The sound of orchestral instru- ments warming up provided an air of anticipation at the Stewart Island Community Centre on 9th December as the audience filed in. 47 members of the Christchurch Youth Orchestra- formally dressed for their southernmost concert proved to be an impressive sight and sound. The first full symphony orchestra ever to play on Stewart Island didn't disappoint the 130 residents and visitors who came along for an entertaining evening. The CYO is the Christchurch School of Mu-sic's premier orchestra and they are currently touring southern New Zealand playing in Invercargill, Stewart Island, Oamaru and Waimate. An orchestral piece by Benjamin Britten introduced the various instru-mental sections of the orchestra and highlighted the talent and enthusiasm of this young group ranging in age from 13 to 25. Principal conductor Brian Buggy's introduction and explanations about the orchestra were interspersed with humorous references, including his Australian origins. Both Brian's and Musical Director Mark Walton's commentary provided good insight to the orchestra's performance which was able to be understood by young and old. Talented 21-year-old New Zealand conductor Gemma New who also played the violin in the string section as- sisted Brian Buggy. The front row of children from the Halfmoon Bay School and Rugrats seemed unusually captivated by the wonderful sound of the orchestra. One glassy eyed young lad told his mother that he didn't know music could make you feel like that inside!In the fi-nal high-light of the eve- ning we were treated to an amazing Artie Shaw solo performance by world- renowned clarinet player Mark Walton who is also the Musical Director of the Christchurch School of Music. During the af- ternoon and next day the orchestra held workshops at the Halfmoon Bay School, which Principal Kath Johnson described as 'amazing and wonderful for the chil- dren'. The beautiful sound of Sibelius being per- formed in our very own Community Cen- tre is not something we will forget in a hurry. —M. Hopkins